If you are a business owner, you need to know how to create whatsapp link for your business.
Chances are you have your business on many social platforms, and you want to be able to communicate instantly with your prospects or clients and effectively.
The problem about using Whatsapp for business is the process of adding contacts by sharing them through the platform's groups and conversations, as well as entering the number directly.
A WhatsApp chat link eliminates that friction and allows contacts and customers to connect in a single click.
In this article, we'll look at how WhatsApp links bring value to businesses and individual users alike.
Use your WhatsApp URL for marketing
WhatsApp isn't the most obvious choice when it comes to marketing channels.
You can't run ads (though it looks like you may be able to soon) nor can you initiate conversations with customers unless they've already opted into receiving communications from your brand.
That said, WhatsApp's limitations may actually be a blessing in disguise for savvy marketers–customers must "consent" to communications, which means WhatsApp leads are more likely to be "high-intent" customers than those sourced from channels with no opt-in requirement.
You can drive traffic to your WhatsApp account by promoting your link in organic social media posts or paid ads.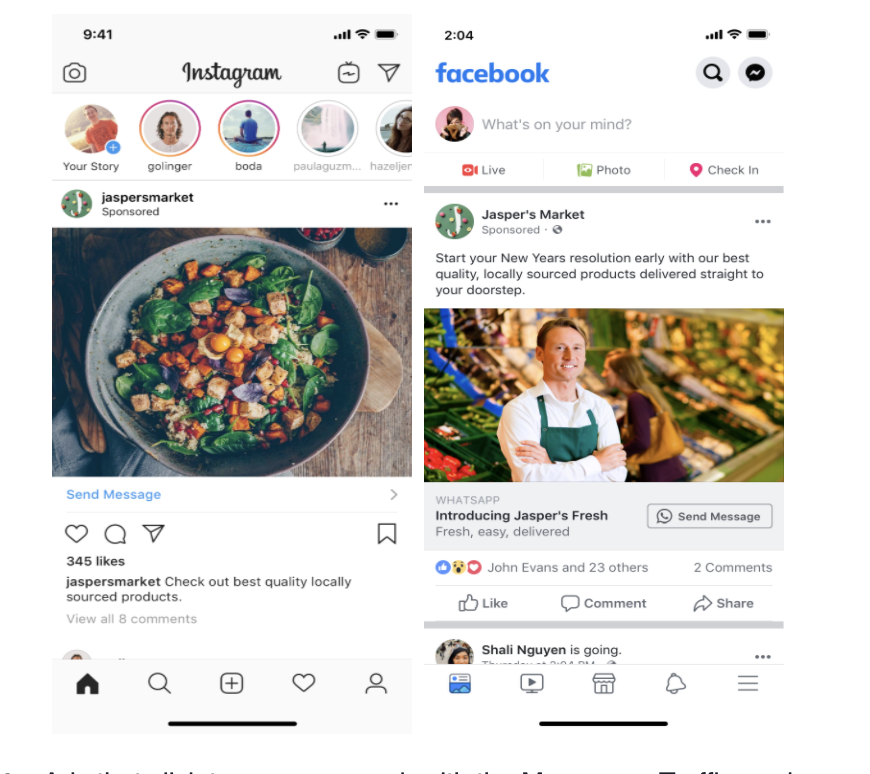 How to Create a WhatsApp Chat Link
A quick note: if you're using your WhatsApp chat link to promote a business, you'll need to create a business profile first.
If you haven't already done so, you can find step-by-step instructions for getting started here.
Once you've set up an account, **creating a WhatsApp link **is quite simple.
According to WhatsApp's FAQ page, you can create your own WhatsApp link manually by changing the URL people use to contact you.
Copy the code to create the WhatsApp link:
https://api.whatsapp.com/send?phone=
After the (=), you'll want to add your phone number in its complete international format, excluding any brackets, dashes, or zeroes.

How to create a Short Link in WhatsApp
Open the app and navigate to Settings > Business Tools > Short Links.
Tap "short link" to view the link.
Tap the link icon to copy the link and paste it into a message, social post, or add it to another website.
Tap the share icon to send the link directly to your customers–remember, anyone with access to the link can message you so keep this in mind when deciding where you share it and with whom.
You can also create a Short Link using a link generator like Bit.ly.
How to create a WhatsApp link with a default message
Beyond creating and sharing links, you can also create a default message that automatically appears in the text box when a user initiates a chat.
To set it up, make sure the URL follows the same format as outlined above:
"https://wa.me/whatsappphonenumber"
Followed by:
"? text=urlencodedtext"
That "URL-encoded text" represents a default message that users can select instead of typing out a longer response.
For example:
https://wa.me/1XXXXXXXXXX?text=I'd%20like%20to%20return%20an%20item
Alternatively, if you'd like to create a link that includes a default message alone, you can leave out the phone number:
https://wa.me/?text=I'd%20like%20to%20see%20pricing%20and%20plans
Add a WhatsApp link to a paid social campaign
To create a WhatsApp "click to chat" button, you'll start by following the URL instructions outlined above.
Your next steps will be determined by your campaign goals. If your goal is to increase engagement, brand awareness, reach, or views, follow these steps:
Select the campaign budget and hit "Next."
Then, select your targeting criteria, placements, and schedule.
Add your website's URL under "Links, " then in the section labeled "Call to Action" select the option, "send WhatsApp message."
There, you'll want to select the WhatsApp number associated with your page from the drop-down menu.
Hit "publish" to finish the job.
For ads focused on generating conversions, web traffic, or messages, complete the following steps:
From there, navigate to your Facebook Ads Manager and select Ad Creation and choose an objective.
Then set your campaign budget and click "Next."
Next, select "Click to Message" from the "Ad Type" menu and select WhatsApp from the Messaging app list.
Select your targeting criteria, schedule, and placements.
Then choose an ad format to complete the setup.
Click + Create to create a flow for your campaign.
Click "Save, " "Finish, " then "Publish" to launch.
Sites to Create Whatsapp Links
Postcron